Canadian Statutory Holidays 2021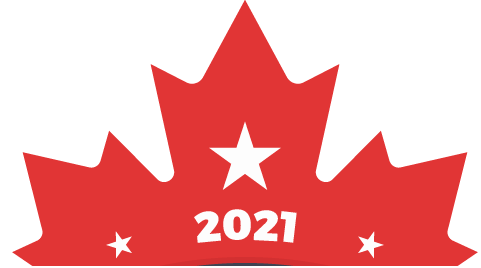 Observance  
 English

_

Name  
 French

_

Name  
Remarks
January 1
New Year's Day
Nouvel an (Jour de l'an)
Statutory. Celebrates the first day of every year in the Gregorian calendar.
April 15
Good Friday
vendredi saint
Statutory, except in Quebec where Easter Monday is statutory. Acknowledges the crucifixion of Jesus Christ, traditionally on 3 April, 33 AD; see Good Friday article for details. Not fully observed in Quebec.
May 23
Victoria Day
fête de la Reine
Statutory, except in New Brunswick, Newfoundland and Labrador, Nova Scotia and Prince Edward Island. Celebration of the birthday of the current Canadian monarch. (Originally, May 24 was the birthday of Queen Victoria.) In Quebec, Victoria Day and the National Patriotes Day (Commemoration of the Lower Canada Rebellion) are celebrated on the same day.
July 1
Canada Day
fête du Canada
Statutory. Commemoration of Canada's 1867 Confederation. In Newfoundland and Labrador, Canada Day and Memorial Day (Commemoration of the Battle of the Somme) are celebrated on the same day.
September 5
Labour Day
fête du travail
Statutory holiday in all Provinces
September 30
National Day for Truth and Reconciliation
Journée nationale de la vérité et de la réconciliation
Statutory, The government of Canada  passed legislation in 2021 to make September 30th a federal statutory holiday called the National Day for Truth and Reconciliation, ensuring that the tragic history and ongoing legacy of residential schools is never forgotten.
October 11
Thanksgiving Day
action de grâce
Statutory, except in New Brunswick, Newfoundland and Labrador, Nova Scotia and Prince Edward Island. A day of general thanks for one's blessings. (Note: Thanksgiving is not celebrated on the same day as it is in the U.S.)
November 11
Remembrance Day
jour du souvenir
Statutory holiday everywhere except Ontario, Quebec, and Newfoundland and Labrador. Commemoration of Canada's war hero's. Anniversary of the armistice ending World War I in 1918.
December 25
Christmas Day
Noël
Statutory. Celebrates the birth of Jesus Christ; traditionally 25 December,  in 2021 Christmas falls on Saturday. Check with your employer about your day off.
December 26
Boxing Day
lendemain de Noël
Statutory in Ontario and federal jurisdictions. Day when shops sell off excess Christmas inventory. It is not an official Holiday in Quebec or British Columbia.
Since the Corona Virus Pandemic hit the world in December 2020, the year 2021 been tough for everyone on Earth. Millions of people died and the spared continues with different virus variants.
In Canada The corona hit hard on its economy and thousands lost their job due to Covid restrictions imposed on businesses and service industry. Another major change us working from home, many employers asked their employees to work from home and some businesses implemented rotation system to work from home & Office. As per a research conducted by the Mental Health Research Canada, One-third of Canadians report their mental health is affecting their ability to function, with social and family life being hit hard.
The most affected Canadian businesses' by pandemic restrictions: retail, entertainment, accommodation and food services. When we are dealing with a pandemic, it is a very stressful event for individuals and communities and many Canadians having mental health issues, stress and Financial issues. The Canadian government launched may programs to help Canadians to face these difficult situations.
Since the parks, indoor play grounds, movie theaters, entertainment centers are closed/restricted the access, and Canadians advised to stay home, its been a very silent year of most of them. All school boards across the country promoted online schooling and in-class learning are doing with limited number of students per class. So its been a tough time for families.
Foot  note- The Vaccine roll-out in Canada is in progress, let's hope for the best for rest of the year…